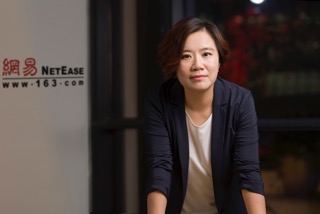 As CEO of Netease Media Group, Li Li has worked in the internet-related sector for more than 15 years.
Li has pioneered a new "attitude-orientedmarketing"introduced the fresh concept of "content experience consumption upgrading"as well as contributed remarkable efforts to the development of new media inthe internet era.
Under her leadership, the news portal by Netease has become the country's first operator to offer high-quality reading materials, set up a credit-based usage mechanism, and releasedan app featuring information categories.
The news portal has claimedmore than 60 professional awards such as the Top App Store of the Year in Information Categories, the Most Valuable Mobile Phone App of the Year by New Weeklymagazine, and the Top Internet Application App of the Year by Nanfang Daily.
She has also worked with her colleagues to set up their online open courses program, which allows free learning and the dissemination of content online.
The online learning program became China's first winner of the Site, Course, and Project Awards for Open Education Excellence by the Open Education Consortium in 2016.The top honor signifies that it has entered the list of internationally renowned online education platforms.
In addition, Li has championed the establishment of Netease's online donation platform and built a closer relationship with many philanthropic organizations from home and abroad,such as the China Foundation for Poverty Alleviation, the China Women's Development Foundation, and the World Wide Fund.
Netease's online donation platform has extended its financial assistance to earthquake-affected people in Ya'an in southwest China's Sichuan Province and Ludian in southwest China's Yunnan Province. It has held summer camps for so-called "left-behind"people in rural areas, provided aid to rural teachers in western China, and helped women realize their dreams during the celebration of Mother's Day.
Li has been presented with the honor of China Internet-based Advertisements Heroes in a Decade by the China Advertising Association and the Top 100 Persons of China's Online Media in a Decade by the Internet Society of China in recognition of her achievements and contribution to the industry.