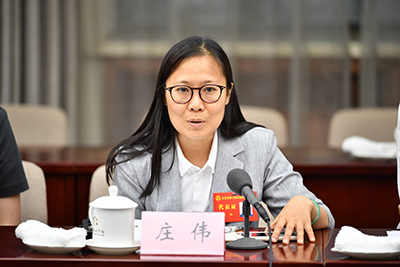 ZhuangWei is Secretary-General of Beijing Cihong Charity and Party chief of the First United Committee of Beijing Foundations in the Field of Culture and Education.
Zhuang has been on the frontline of China's charity causes since she founded Beijing Cihong Charity in September 2010.
She has adhered to the principle of rationality in running a charity, dedicating herself to making explorations and discoveries of social problems and finding solutions to them.In her efforts, she has made full use of various social resources, especially those from professionals, and focused her attention on innovation, development, and the professional level of charity programsto build a reliable platform for rational public welfare.
With the support of volunteers composed of many professionals, Zhuanghas launched several charity programs which are designed to provide children with assistance in their pursuit of reading, strengthen the competence of teachers and students in rural areas, and organize senior scientists to give open lectures.
These charity projects have given financial assistance and encouragement to young aspirants from impoverished families,enlarging their horizons at the same time.
In addition, Zhuang has led her charity organization to activelytake part in targeted poverty relief programs. They have conducted charity services in 1,203 schools with more than 1.3 million student beneficiaries in poverty-stricken areas in rural China.
Beijing Cihong Charity was recognized twice as a 5A-grade social organization by local authorities in 2013 and 2018.
Zhuang has also been appointed as an expert in social organization evaluation bythe Ministry of Civil Affairs and the municipal government of Beijing,taking part in the revision of an evaluation index system for foundations, as well as in the formulation of standards and qualifications for the conduction of online fundraising activities.