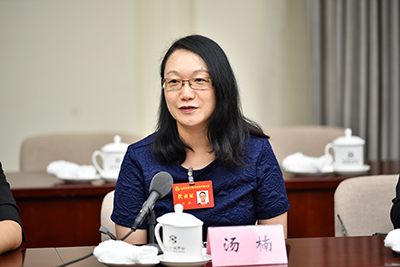 Tang Nan, a PhD holder from the University of California, joined the National Institute of Biological Sciences (Beijing) when she returned to China in 2012.
Tang has been selected as the leader of the science and technology innovation for young and middle-aged people, as well as the 10,000 Talents Program, and the Haiju Project,a project aiming to attract overseas Chinese back to the capital.
Tang has madenoticeable achievements in her pathological studies of lung development and relevant diseasesin the past several years. For instance, she and her colleagues have made important discoveries in the development and regeneration of lung cells.
In addition, Tang has led her colleaguesin conducting scientific studies of alveolar type I cells and make an analysis of their functions, as well as effects upon lung development and regeneration.
Currently, Tang and her team have been working on key genes and signaling pathways in relation to regeneration of lung cells in a drive to uncover the causes of pulmonary fibrosis, chronic obstructive pulmonary disease, lung cancer,and other relevant diseases.
Tang has published a dozen academic papers in internationally renowned journals, such asCell Stem Cell, Dev Cell, and Proceedings of the National Academy of Sciences of the United States of America(PNAS). She has also trained more than 10 PhD holders, presented her lectures at many international academic conferences, and acted as a member of the editorial board of Dev Cellin the past few years.
Apart from being conferred with the GuXiaochengLecture Award, established by the GuXiaocheng Memorial Fund to find young scientific workers showing potentialin becoming future leaders in life science research, Tang has opened her courses on developmental biology for graduate students at Beijing Normal University, Tsinghua University, Peking University, and Peking Union Medical College Hospital.
In addition, Tang isDean of the Graduate School in the National Institute of Biological Sciences (Beijing) and is in charge of enrollment.