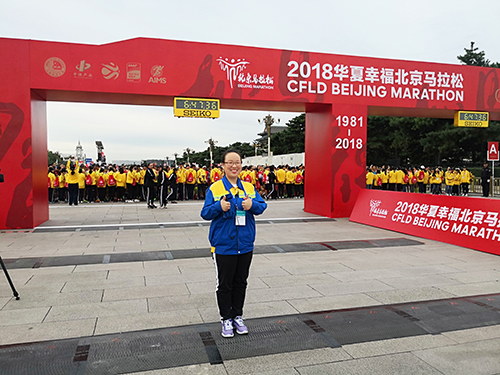 WenYingying is Secretary of the Committee of the Communist Youth League of China(CYLC) in Beijing Mechanical Cleaning Services Ltd. Co,affiliated to Beijing Environmental Sanitation Engineering Group,and Secretary of the PartyBranch in the Tian'anmen Area Sanitation Service Center.
Wen has excelled in her workplace over the past decade. She has taken part in environmental sanitation work during many important occasions, such as the celebration of the 60th anniversary of the founding of the People's Republic of China in October 2009, China's V-Day parade celebrating the victory in the Chinese People's War of Resistance Against Japanese Aggression and the World Anti-Fascist War in September 2015, as well as the Belt and Road Forum for International Cooperation and the Beijing Summit of the Forum on China-Africa Cooperation.
Wen has worked with her colleagues to constantly increase the standards of their sanitation services. For instance, they are expected to clean garbageoff the ground within five minutes once they fall, ensure that the amount of dust weighsno more than five gramsat Tian'anmen Square after their work, and allow visitors to sit on the ground without any concerns.
Wen has viewed the sanitation work in the Tian'anmen Area as her revolutionary pursuit and led her colleagues to remain true to their original aspiration for makingTian'anmenSquare more beautiful,letting the Party flag fly high on the frontline of sanitation work.
Wen often becomes much busierin her work and finds no time to stay at home with her 4-year-olddaughter when others enjoy their sightseeing tours during holidays.The sanitation job demands her to work along with her colleagues around the clock to create a safe and clean environment on key occasions.
Wen has presented to others the positive image of sanitation workers in the new era of China through her dedication, sacrifice, youth, and vitality.
Wen has won many honors and titles, includingthe National May Day Medal for Women Pacesetters by the All-China Federation of Trade Unions, the 23rdBeijing Youth May 4th Medal by the Beijing Committee of the CYLC, the 2nd Beijing Outstanding Female Workers for Safety Supervision, and membership of a delegation designed to lecture the public on the deeds of young role models.
In addition, under her leadership, the Tian'anmen Area Sanitation Service Center became a winner of the Beijing March 8th Red-Banner Collectives medal last year.