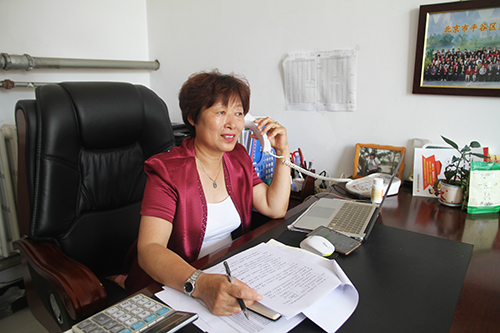 Kong Aijun has been president of the women's federation at Longjiawu Village inPingguDistrict of Beijing for 15 years.
Kong has focused on the implementation of the decisions and arrangements made by the Party committees and governments at all levels.She has spared no effort to meet the needs of her fellows, making full use of the functions of the women's federation over the past few years.
Kong became head of an agricultural cooperative inthe village in 2007.Two years later, she led local women to develop their own greenhouse business and founded the village's first working base for women at a municipal level.
Thanks to her leadership, the income of local women from their agricultural production has seen an increase of 6,000 yuan ($869) each mu (667 square meters). It has helped them achieve a prosperous life without leaving their hometown.
In addition, Kong has organized a dozen vocational training gatherings per year in a drive to help local women learn more about personal health, the plantation of flowers, and the management of family relations.
Kong championed theestablishmentof an elderly care center, which was designed to provide local seniors with meals and other nursing services, after she found that their children have been preoccupied with daily work and had no time to take care of them.
Furthermore, Kong has worked with Beijing Yichuang Rural Women's Philanthropy Development Center and Samsung Electronic Technology to build an activity center for early childhood education, where local children can find their favorite reading materials and toys, while their parents can learn advanced parenting skills.
Many women's federations from other parts of the country have visited the center to learn from the management of rural affairsin recent years.
In addition, she has been conferred with many awards and titles including the National March 8th Red-Banner Pacesetterby the ACWF, the Beijing Municipal March 8th Red-Banner Award, and Outstanding Workers by the Beijing Women's Federationin recognition of her excellent work.