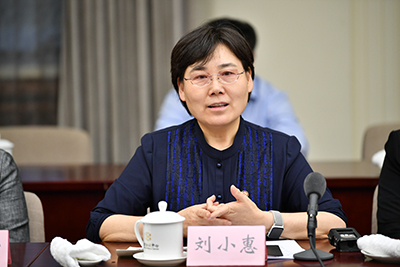 Liu Xiaohui is the principal at the Beijing-based High School Affiliated to Renmin University of Chinaand Secretary of the Party Committee of theHigh School Affiliated to Renmin University of China United Schools. She has been dedicated to meeting public demand for high-quality education during the past three decades.
Liu has made a remarkable contribution to ensuringthat the school forges the same reputation as internationally renowned ones.She has played an important role in making full use of the school'sexemplary functions and in enlarging the access to its high-quality educational resources. All her efforts have produced positive social results.
As the Secretary of the Party committee of the United Schools, Liu has stressed coordinated development among theoretical studies, ideological cultivation, and practical work; adhered to the principles of the emancipation of minds and seeking truth from facts; andworked hard to advance the pilot work of running the United Schools.
Shevolunteered to be principal of the school'sCuiwei Campus in the capital city'sHaidian District in 2014, even though she was diagnosed with cancer.
Liu assumed the duties of being head of the school's campus in Tongzhou District with the goal of spurringthe growth of education in the sub-center of Beijing in May 2016 when Cuiwei Campus was on asound track of development.
Since then, Liu has been shuttling back and forth betweentwo separate campuses.
Her schedule has become much tightersince she took the new post at the headquarters in 2017. Relevant figures show that she has travelled about 60,000 kilometers during her stay at different campuses in the past two years.
Everyone around Liu has been moved by her sweeping working style, her courage to shoulder responsibilities, and her spirit of selfless sacrifice. Her efforts have brought positive changes and remarkably improved the education quality of schools in disadvantaged positions and in suburban areas.
Liu has been presented with the National March 8th Red-Banner Pacesetterby the All-China Women's Federation (ACWF), the Beijing Municipal March 8th Red-Banner Award by Beijing Women's Federation (BWF), and many other titles.
In addition, she has been elected as a member to the Haidian and Tongzhoudistrict committees of the Chinese People's Political Consultative Conference (CPPCC).
Liu is set to work with her colleagues to write a new chapter for education in Beijing and show to the positive images of women in shouldering their responsibilities in thenew era.